Rep: 2
Re: [CD-R] Guns N' Roses @ ''If The World Listened To DJ Ashba''
[align=center][CD-R] Guns N' Roses @ ''If The World Listened To DJ Ashba''[/align]
ArtWorks [@Lies_Lancioni (cololancioni) & @ozzy_osbourne_]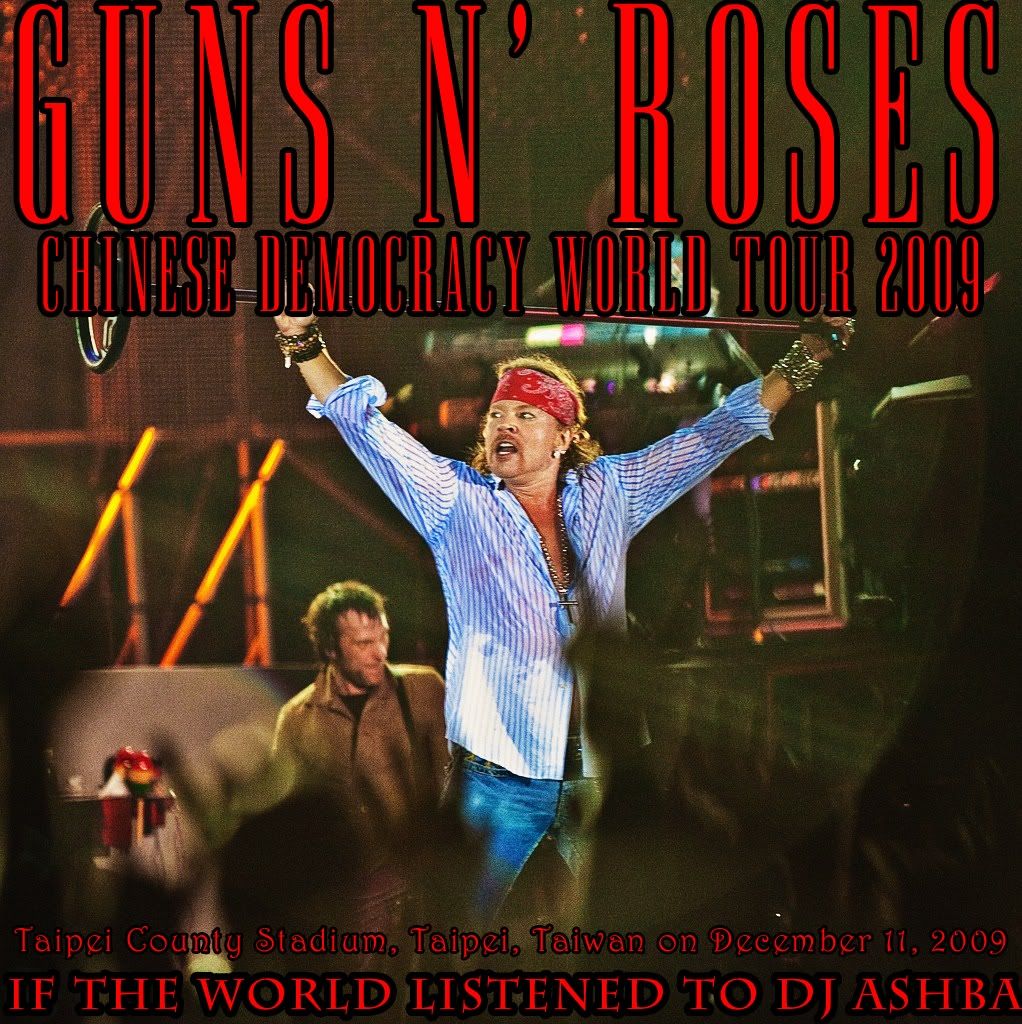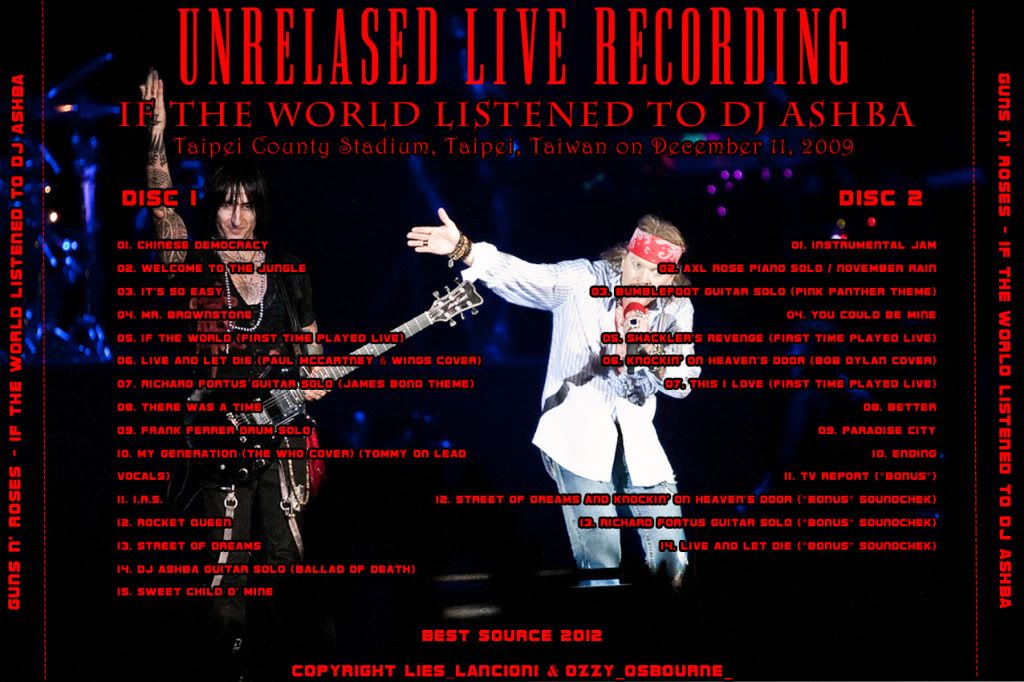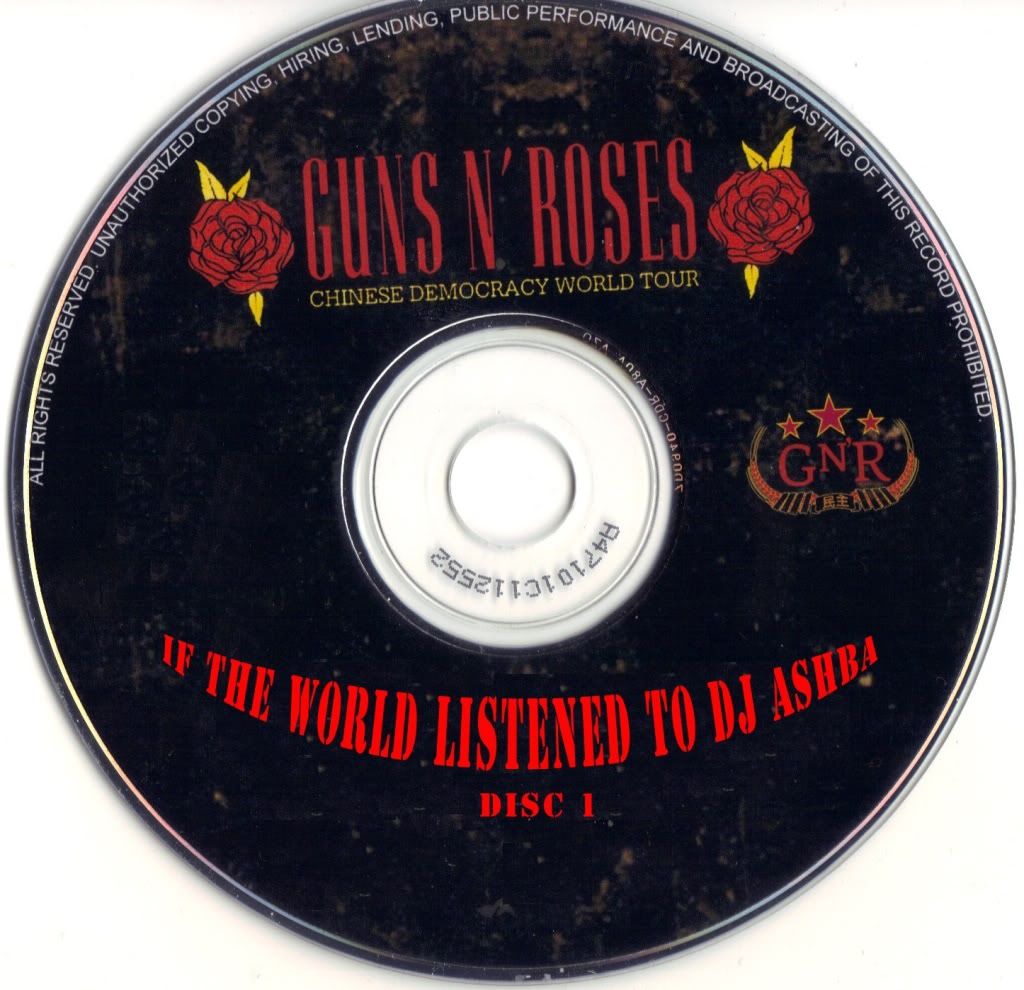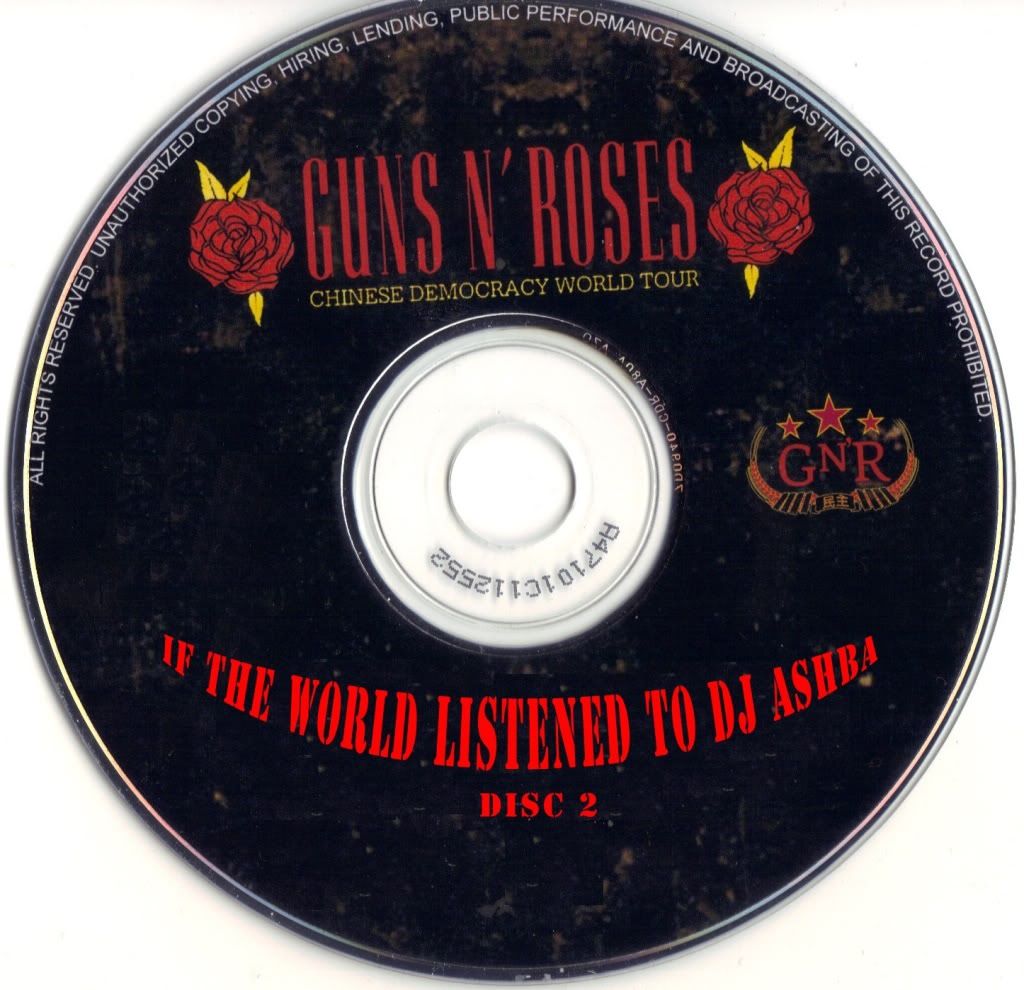 [align=center]
[/align]
Listo para imprimir!
Info Disc
Live at Taipei County Stadium, Taipei, Taiwan on December 11, 2009
''IF THE WORLD LISTENED TO DJ ASHBA'' (Si El Mundo Escuchara A DJ Ashba)
The Best Source 2012 [new]
W. Axl Rose [vocals, piano]
DJ Ashba [guitar]
Richard Fortus [guitar]
Bumblefoot [guitar]
Tommy Stinson [bass guitar]
Dizzy Reed [keyboards, piano, percussion]
Chris Pitman [keyboards, SFX, percussion]
Frank Ferrer [drums]
Songs on Albums
1Chinese Democracy (8)
2Solos (7)
3Appetite for Destruction (6)
4Covers (3)
5Others (2)
6Use Your Illusion I (1)
Use Your Illusion II (1)
Source: YouTube > YouTube Downloader HD > Format Factory > WMA > Adobe Audition CS5 > WAV. > Format Factory > MP3 128 (verry quality)
Cover: www.gnrfrancet.net > Photos > Concert > 2009 > Taipei > (Select Best Picture) > Adobe Photoshop CS5
Front [Lies_Lancioni] (cololancioni) & Back [ozzy_osbourne]
Track List [Complete]
Disc Two
01. Chinese Democracy
02. Welcome To The Jungle
03. It's So Easy
04. Mr. Brownstone
05. If the World (First time played live)
06. Live and Let Die (Paul McCartney & Wings cover)
07. Richard Fortus Guitar Solo (James Bond Theme)
08. There Was A Time
09. Frank Ferrer Drum Solo
10. My Generation (The Who cover) (Tommy on lead vocals)
11. I.R.S.
12. Rocket Queen
13. Street Of Dreams
14. DJ Ashba Guitar Solo (Ballad of Death)
15. Sweet Child O' Mine
Disc 2
01. Instrumental Jam
02. Axl Rose Piano Solo / November Rain
03. Bumblefoot Guitar Solo (Pink Panther Theme)
04. You Could Be Mine
05. Shackler's Revenge (First time played live)
06. Knockin' On Heaven's Door (Bob Dylan cover)
Encore:
07. This I Love (First time played live)
08. Better
09. Paradise City
10. Ending
Bonus:
11. TV Report (*Bonus*)
12. Street Of Dreams And Knockin' On Heaven's Door (*Bonus* Soundchek)
13. Richard Fortus Guitar Solo (*Bonus* Soundchek)
14. Live And Let Die (*Bonus* Soundchek)
Fan-Made
NEW SOURCE!
Copyright @Lies_Lancioni (cololancioni)
               @ozzy_osbourne_
www.taringa.net/Lies_Lancioni
www.taringa.net/ozzy_osbourne_
Download!
Rep: 70
Re: [CD-R] Guns N' Roses @ ''If The World Listened To DJ Ashba''
First show after Chinese was officially released. Thanks dude!! ROCK ON!