Re: On the search for a new frontman:
Backslash wrote:
Neemo wrote:

What about Wes Scantlin of puddle of mudd...he has a bit of a scott quality to his voice and he writes great catchy songs

I find him incredibly annoying... I can see why she fuckin' hates him.
your a schitzophrenic psycho

his songs stick in your head though ... you cant deny that
and control was another song that was around for a while...people were loving that tune
Rep: 74
Re: On the search for a new frontman:
Looks like it's starting to get a little ugly in the press between Scott and the VR.   Matt was bad and now it seems he's just taking pot shots, he knows they aren't going to get Bach as their lead singer so I think that was just something to dig at them with.
Rep: 212
Re: On the search for a new frontman:
Guys,
While I remain sad about the whole thing it could be viewed right now as likely to go either way.
I personally don't think Matt or Duff would go with Baz, they have already stated from the start that they wanted a more modern sound from the band than jsut '80's rock and Baz ain't the man for that, he's an 80's star and makes a living off of that. Personality-wise he's frankly a bit of a goof, if he had brains he'd be dangerous. I personally will be out of VR land if they bring him in; he's bad mouthed VR to hang with Axl, his old band mates in Skid Row hate him, forums are full of stories of his asshole behaviour in front of fans etc. It'll be another low selling album and a train wreck tour and then the end.
Chris Robinson could be an interesting choice as I think he would compliment the songs that Izzy had a hand in writing when he jammed with VR. Scott hated them and wouldn't contribute -they since have been shelved  - for now. It was pretty obvious that Scott was pushing VR towards an STP direction with songs like 'Come on Come In' etc. However, their back catalogue bar maybe 5 tunes would have to be abandoned if Chris came in - they just won't work.
I'd love to see them work with Josh Homme, Dave Grohl, Chris Cornell, Ian Ashbury I'd be curious to see what they could do with Mike Patton, Mark Lanegan and Brandon Boyd
Re: On the search for a new frontman:
from the other thread
Tommie wrote:
"After reading the comment by Duff, Matt, Dave and the illustrious 'Guitar Hero,' Saul Hudson, a.k.a. Slash, I find it humorous that the so-called four 'founding members' of Velvet Revolver, better known to themselves as 'the Project' before I officially named the band, would decide to move on without me after I had already claimed the group dead in the water on March 20 in Glasgow," Weiland explained. "In response to Slash's comment regarding my commitment [to the band], I have to say it is a blatant and tired excuse to cover up the truth. The truth of the matter is that the band had not gotten along on multiple levels for some time. On a musical level, there were moments of joy, inspiration, fun ... at times. But let's not forget the multiple trips to rehab every member of the band had taken (with the exception of one member '" no need to mention his name).

"Personally speaking, I choose to look forward to the future and performing with a group of friends I have known my entire life, people who have always had my back," Weiland continued. "This also speaks to my commitment to my music and my fellow bandmates in [Stone Temple Pilots] and to the fans who I feel would much rather watch a group of musicians who enjoy being together as opposed to a handful of discontents who at one time used to call themselves a gang."

In conclusion, Weiland warned fans not to be "fooled by veiled trickery," and even wished Velvet Revolver his best. "Good hunting, lads '" I think Sebastian Bach would be a fantastic choice."

Source: http://www.vh1.com/news/articles/158461 … lver.jhtml
Re: On the search for a new frontman:
I think Bach becoming the frontman for VR would be a great thing. Not for the music though but to maybe be responsible for getting Axl to get back with Slash and co. and play a few shows as GNR. Afterall he's a good friend of Axl, and would become close to Slash and Duff aswell, and we know Matt would do it. Bach would become the messenger and help iron out those tensions for good, and hell, Back would also love to see it himself, so I think this would be the best possible way to "try" and reunite the original Guns N' Roses.
Re: On the search for a new frontman:
Well here are a few more again I can go all day with this but would rather not.
After all it's all speculation that Baz is joining VR  or is it?
cover: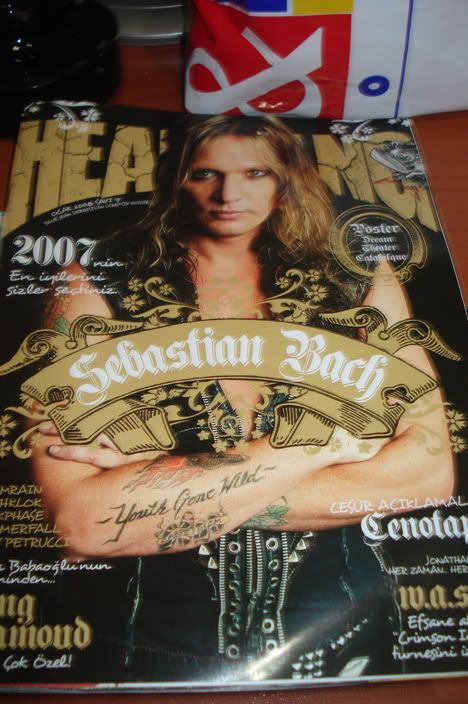 1st&2nd page:

these 2 pages are about bach's background. how he became of the most incredible vocal gods and how he rocked with skid row. there is a paragraph about his acting career. and a paragraph about how skid row became one of the best american bands and how they failed badly without baz. oh and it says "baz has filled the concert venue with 7-8 thousand people twice in 5 month which is a record for the venue. (venue has 5000 people capacity)
3rd page:

a paragraph about how he could rule the world with velvet revolver and how velvet revolver sucks. last paragraph is about the process of angel down.
album review: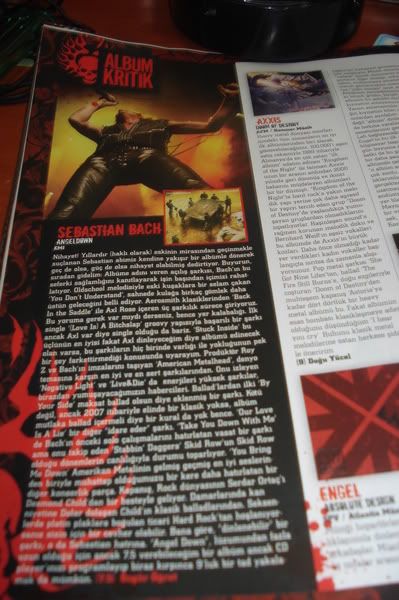 10 out of 10. nothing more to say.
http://www.jsonline.com/story/index.aspx?id=701334
CHRIS FROM THE CLASSIC METAL SHOW
1 Sebastian Bach - Angel Down
2 Dublin Death Patrol - DDP For Life
3 Tarsha - Prophecies
4 Terry Ilous - Here And Gone
5 Down - III: Under The Over
6 Agent Steel - Alienigma
7 Megadeth - United Abominations
8 Scorpions - Humanity Hour 1
9 Ozzy Osbourne - Black Rain
10 Helloween - Gambling With The Devil
11 WASP - Dominator
12 Exodus - The Atrocity Exhibition: Exhibit A
13 Seven Witches - Deadly Sins
14 The Cursed - Room Full Of Sinners
15 American Dog - Hard
16 Hellfueled - Memories In Black
17 Coheed And Cambria - No World For Tomorrow
18 Shaw Blades - Influence
19 Great White - Back To The Rhythm
20 Sixx AM - Heroin Diaries Soundtrack