Re: Ride On
< Izzy Stradlin - Ride On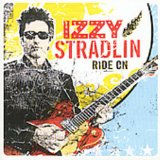 # Original Release Date: January 1, 1999
# Label: Universal Victor Japan
1. Ride On
2. California
3. Spazed
4. Primitive Man
5. Trance Mission
6. Needles
7. The Groper
8. Here Comes The Rain
9. Hometown
10. Highway Zero
After two awesome critically acclaimed but poor selling albums, former Guns N' Roses guitarist/songwriter Izzy Stradlin has been relegated to cutting records in Japan in order to keep rockin'. Although, considering that the great Michael Monroe (ex-Hanoi Rocks) just put out a stellar Japan-only album, this may not be a bad thing. Imagine it? No stupid, flashy American A&R guys tellin' you what to do. No three-piece suit agents stickin' their noses in your affairs. And no phony radio promo geeks tellin' you how bad they need a hit to work your shit. Must be nice.

And so, what is the result of this seemingly relaxed atmosphere and creative freedom? A great straight up bluesy rock n' roll album in the tradition of Izzy's heroes: the Stones, the Faces, and Chuck Berry. Backed by Gun buddy Duff McKagan and former-Georgia Satellite Rick Richards, and Duff's Loaded drummer Taz, this ten-song affair is a no-frills, whiskey soaked, rock n' roll party. The songs swagger between Tom Petty-style rockers like the title track, ''California'' and '' Highway Zero,'' to blues-based romps like ''Primitive Girl'' and ''Hometown.'' Sure, there's a couple of acoustic ballads, ''Needles'' and ''The Groper, thrown in to balance the rock, but mostly, this is a guitar rock album through and through. The highlight of this self-produced album is the epic ''Spazed.'' This trippy rocker takes it's cue from Get Your Wings -era Aerosmith (in fact, didn't they actually have a song called ''Spaced?'') with a nod to Ace Frehley's ''Ozone.'' A truly tasty song, indeed.

Look, Izzy's singing may not be a lot better than Keith Richards or Ronnie Wood, and the songs are, for the most part, based on the same bar room rock riffs you've heard a million times before, but that's not the point. There is a severe shortage of straight ahead rock n' roll here in the new millennium, so we (the pure rockers of the world) have to support the few artists out there who do it right. Izzy is one of these cigarette smoking, guitar slingin, heroes.

Izzy has still got it.
The artwork shown above is the original album cover as found on the Japanes CD release.
The thumbnail below is the artwork found with the iTunes download.