why not detroit or houston shows from 2016? they filmed everything... and release this?
the mix makes slash sound like me when i was 13 years old pretending to be slash. axl hates so trump so much he turned into him.
i can't even get through double talking jive... sounds like slash's guitar is plugged into a sega genesis. what the fuck is wrong with this band?
metallex78 wrote:
Fernando was also recently chatting on discord for around 2 hours with fans, and seems genuinely interested in improving band/fan relations.
Moving forward, he truly believes that we would have new GN'R music by now if it wasn't for this pandemic.
There is work going on behind the scenes to upload live videos from the NITL tour to their YouTube channel, and should be up "soon"...
fuck this band all the way to hell.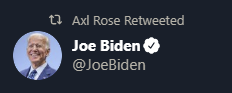 between this, no album & a children's book... no reason to continue supporting these clowns.
"just shut up & sing..."
if bucket isn't on me & my elvis, it's fucking insane. axl's band was basically composing buckethead songs before he even entered the band!
a version of this with a buckethead solo and vocals = holy grail imo.
manndaze wrote:
anybody wanna help me out with these
same, the roxy soundboard especially
missed it in all the chaos last year
hard school is use your illusion 3 as fuck
PotatoSalad wrote:
That water you just stepped in is from my tears due to all of you voting for Catcher In The Rye!
doesn't make any sense! this is the definitive version of arguably the most timeless song on the album.
"perhaps" is an unspired axl trying to force a cool piano riff into estranged junior.
atlas is great, but it's almost a b-side of catcher.
lmao they dox'd eazy-e's mom in here
this is truly a bizarre document