Re: A summary of the Izzy Stradlin news from this week
This is a recap of everything which has gone down for those fans who haven't been able to keep up

The initial statement:-
Hi there!
At this point in time I`m not involved in the upcoming 2016 gigs . I`ve been writing new material but I have not been writing or recording anything with the GNR guys . I`m starting a twitter account @IzzyStradlin999 to drop a bit of info here and there as needed . Big "thank you" to all the people who have asked about my involvement in April shows !
If anything changes I`ll contact you
spread the word
Cheers
Izzy
One week ago today Izzy Stradlin sent me an email saying he would NOT be involved in the Guns N Roses shows taking place in April 2016. I have a 10+ year track record of providing correct Izzy news which has been shared by the likes of Rolling Stone, MTV, Blabbermouth, Metal Sucks and many more.
Just like I had always done previously, when Izzy emailed me I shared his news (here at Evo) and thought nothing more of it. He had attached an unreleased "selfie" to his email which I was able to use as proof.
In just 7 days Izzys news has managed to generate over 1800 replies at mygnrforum.com alone, which is more than the thread officially confirming the "Axl/Slash/Duff Coachella Reunion" has gathered in 2 months. All of this without a single music news website sharing his statement, aside from one site - thanks for helping to "spread the word" ultimate-guitar.com!
All week I've been wondering what is really going on here. There have been a lot of rumors and fan conspiracies floating around, some of which have been absolutely hilarious, and in no small part fuelled by the tweets Izzy was posting, so I just wanted to lay out all of the facts and proof, as well as all of the doubts by others, for anyone who is only just finding out about this now and doesn't want to trudge through the thousands of fan comments that have been left in the wake of this story unfolding, on the message boards and social media.
FACTS/PROOF
1) Never before seen selfie of Izzy.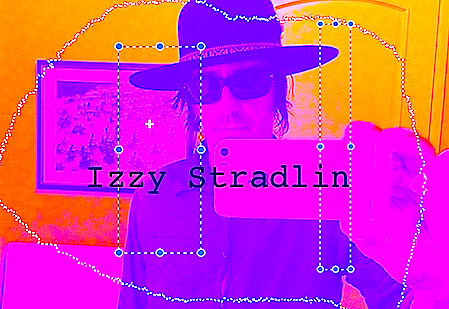 2) Proof of my 10 years+ track record as far as Izzy news goes. (Source)
3) I've confirmed Izzy hasn't been "hacked" as he answered 2 security questions through email and later phoned me.
4) Izzy asked his friend Paul how his career was going on Twitter, and Paul replied. No fans would have known this person.
5) Izzy asked Bernard Fowler to share a photo of them backstage. The photo was shared on Twitter, but fans had already seen the photo months ago and claimed it verified nothing.

6) The partner of Rick Richards (Georgia Satellites/Izzy Stradlin) has said on Facebook "IzzyStradlin999 is legitimately on Twitter.".
FANS DOUBTS ABOUT AUTHENTICITY
1) Izzy tweeted a Youtube video entitled "YO SOL AXL ROSE" which was a GNR cover band. Fans questioned why Izzy would choose to post such a video.
2) Izzy tweeted an Abraham Lincoln meme questioning the authenticity of "quotes on the internet". [Original tweet now deleted but along these lines...]
3) Izzy tweeted to Rick Nielsen that he'd bought a computer, opened a Twitter account, and had quit avocado farming...WTF? Izzys an avacado farmer now? Now deleted, but it lead to some funny fanart on social media: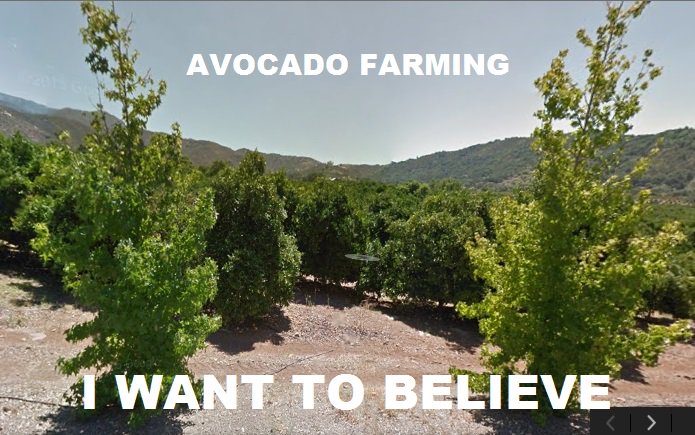 4) Izzys tweets were disappearing almost immediately after fans started talking about them on the message boards.
5) The always media shy Izzy has sent multiple tweets to Rolling Stone, Ultimate Classic Rock and Loudwire but none have run his original statement about not being involved in the Guns N Roses shows in April 2016.

6) The associate editor of Rolling Stone, Andy Greene, has been unable to verify that the account is genuine. His "bullshit detector" was at 99.5% but the following day he was "much less skeptical". Izzy has since deleted all tweets to Andy Greene.

7) Izzy doesn't follow a single member of Guns N Roses on Twitter.
8) No GNR band members past or present follow Izzy on Twitter.
9) Izzy claims to have started the "verification" process on Twitter, but their is still no blue tick.
10) Izzy tweeted the below "Stradlin Identity" meme which originated from mygnrforum.com. Izzy said it should settle the real/fake debate once and for all.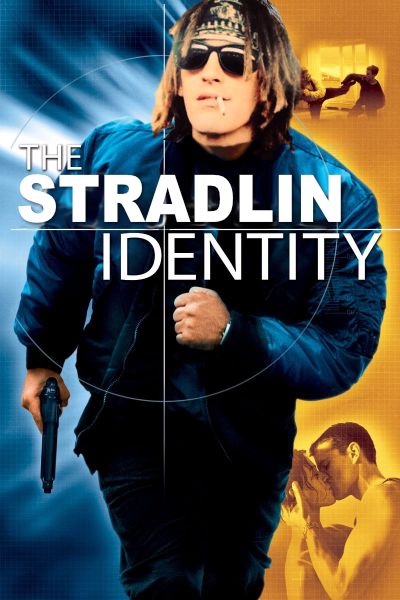 11) Izzy tweeted his and Steven Adlers recording of "Do You Love Me"
12) All of the "proof" is debatable.
--------------------
A 24 hour poll by @chopaway (Izzy fanpage) on Twitter asked fans whether they thought the account genuinely did belong to Izzy. The results after 229 votes were as follows:-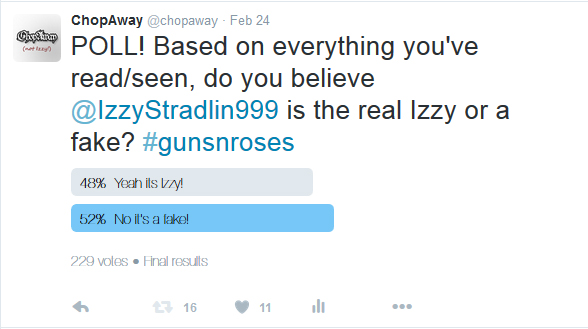 Where do we go now?!
I'd suggest you go and follow @IzzyStradlin999 on Twitter because no-one really knows what the hell is going on but it has been great fun.
EDIT: A few hours after posting this Izzy provided video proof!
This topic is closed for comments as we don't need two. Just thought this would help for anyone who has missed out and isn't really sure what's going on.