Re: Covid 19
AtariLegend wrote:
Please take this trolling, insults and other accounts back to the US politics thread.
But your post:
AtariLegend wrote:
slcpunk wrote:

"No scientific proof that masks work" says the idiots online. Next time you have a surgery, make sure you demand the physicians don't wash their hands or wear masks either.

...but her emails?
Re: Covid 19
The latest report from the largely inept buffoons at the WHO indicate an IFR of 0.6%.
This number was originally reported in mid-March in an scientific article.
Current theories regarding effective herd immunity (EFR/EHI) rate the virus as much more benign than originally expected with 50-80% being more or less immune. This comes from latest discussions regarding T-Cell immunity, proximal exposure to other coronaviruses, and absence of important risk factors.
I've similarly heard estimates of the final IFR eventually being down in the range of 0.1 to 0.3%.
The big boom in deaths are the aforementioned aged population with sizable risk factors and likely could've been saved or at least mitigated if it weren't for horrid policies from Whitmer, Newsom, and Cuomo, et. al.
The U.S. Population believe the mortality rate is 9% in a poll of 1,000 people.
If they are this wrong about the basics of the virus, what else are they wrong about?
The propaganda and fear porn from the mainstream media continues.
Re: Covid 19
Stumbled upon these two at this late hour
WHO be lyin'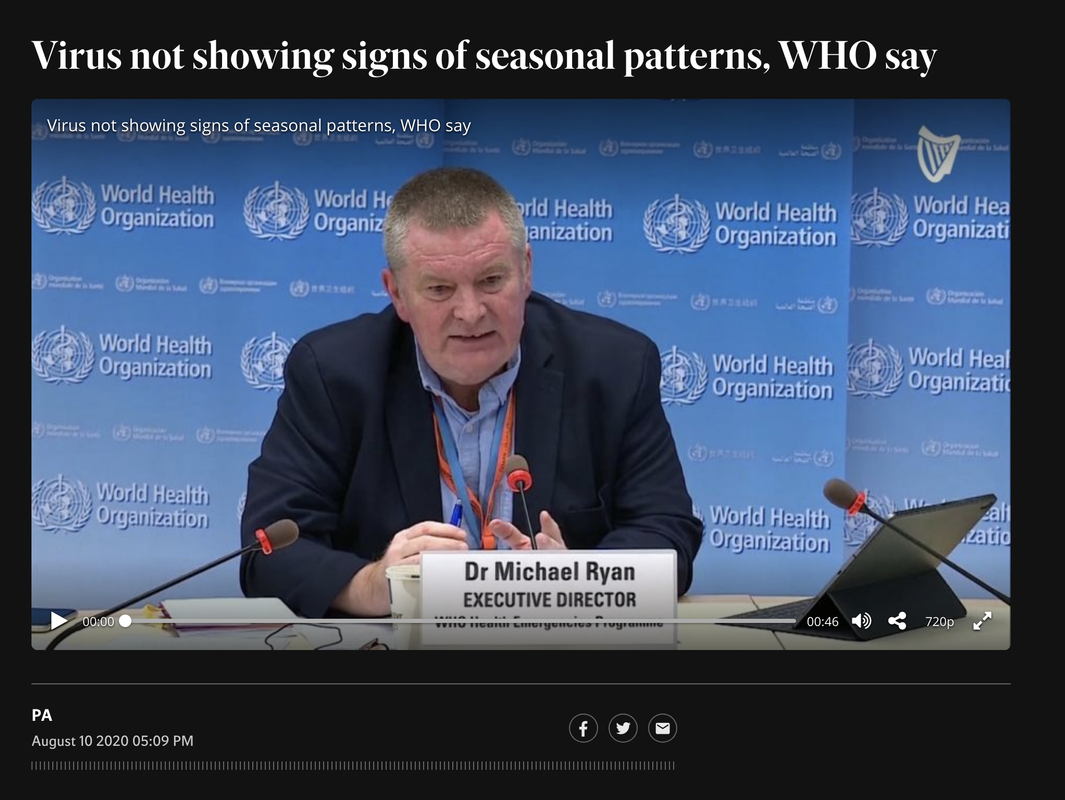 https://www.independent.ie/videos/virus … 37695.html
Two minutes to reveal USA corona regional/seasonal impact patterns

People keep asking me about this; need to understand it's not just about transmission during the rise (a lot of this has far more subtle drivers).

Hope-Simpson's incredible book here:  https://t.co/EA349R7apI pic.twitter.com/GpDRBlSuoX

— Ivor Cummins (@FatEmperor) July 28, 2020
Revelation from BBC medical corr @deb_cohen 'We had been told by various sources WHO committee reviewing the evidence had not backed masks but they recommended them due to political lobbying. This point was put to WHO who did not deny'. So much for WHO's new pro-muzzle 'advice'.

— Peter Hitchens (@ClarkeMicah) July 14, 2020
Re: Covid 19
New covid-19 deaths, yesterday:

France: 18
Australia: 14
Spain: 12
UK: 11
Japan: 10
Germany: 8
Canada: 5

USA: 1,120

— Brian Klaas (@brianklaas) August 15, 2020
Re: Covid 19
They don't know.  Nobody knows.  Worse than that it doesn't matter.  This is going to be a season flu and not even be mentioned by the end of next year.  For all the time people have been shouting from the rooftops that it's not the flu, it's going to be the flu.  Ironic.  Sad.  Politics and science don't mix.
What we do know is cases keep going up as testing does and deaths do not at the same proportion.  People that understand data know why that is, but MSM can keep producing scary graphs that keep people in line.  Now we're hearing about the one-off situations where a few people have complications that may or may not be related to Covid because there aren't enough deaths to keep people scared.  It's fascinating to watch and so troubling at the same time.  Critical thinking is at an all time low...nobody can put together an independent thought.  It's all Trump's fault.  Masks save everyone - we're going to publicly shame you if you remember that we just told you masks do nothing.  No wait, now some masks help, but those gaiter ones make it worse.  We're all in mortal danger.  This will kill millions in the US if not controlled (well, this might be true, but it will take decades for that to happen). 
Take away the nursing home deaths and how many people died in the US because of Covid?  If you can get the real answer to that question, you'll know the answer to your cigarette question is irrelevant.
Re: Covid 19
~90% of the deaths are in the aged population
42% of deaths are in 0.60% of the population aka people in old folks' homes.
The big burst in NYC deaths of 1000+ dead, 94% of them had co-morbidities and 88% had two or more.
Epidemiologists estimate between 60-80% being completely immune to infection
Epidemiologists are estimating between a 0.01% to 0.03% IFR morbidity rate
Speaking of smoke, they're all blowing it. Straight up your ass.
You'll be fine.
Go bang your wife and live life.
We're all gonna die.