James wrote:
If he doesn't remember it...I doubt it even happened. Where did that story originate?
Back in the day (1994) Slash said that they had recorded a Hanoi Rocks song - only instrumentally - without being more specific:
Slash: We did a Hanoi Rocks tune but we decided not to put in on the album because we didn't wanna give Andy McCoy (former Hanoi guitarist) the money! McCoy's an asshole! The basic track was done but we never did any vocals on it. We also recorded a basic track on Iggy's 'Down On The Street', but we didn't finish that either. We stuck with 'Raw Power' — it just sounded cooler. [Kerrang! March 12, 1994]
The information that the Hanoi Rocks song was Beer and A Cigarette came from Michael Monroe (source: htgth):
MM: Yeah, "Beer And A Cigarette" but they thought Andy McCoy was too much of a prick to deserve the publishing money.
He also says that the original synth orchestra wasn't erased, but the real orchestra was put on top of it.
metallex78 wrote:
Blackstar wrote:

Interview with the guy from Universal who oversaw the production of the AFD and UYI box sets:
"Axl wanted to record a real orchestra on November Rain": Inside the new Guns N' Roses boxset

That's not news though. We know that November Rain has been remixed for this box set to include an actual orchestra, replacing the synth stuff he did back in 1991
That's just the title of the article.
There are some things in this PR interview that are interesting reading between the lines, e.g. about the live material.
Also there was discussion on here a few pages back about whether Axl had anything to do with the orchestra thing or he just signed off (or that even TB  signed off on his behalf), and the Universal guy claims it was done at Axl's request.
Interview with the guy from UMG who oversaw the production of the AFD and UYI box sets:
"Axl wanted to record a real orchestra on November Rain": Inside the new Guns N' Roses boxset
Even if it wasn't Axl's idea and he wasn't involved with the process, he would have to be totally on board, especially regarding the new mix replacing the original. TB couldn't have signed off on his behalf for that.
But I think he was involved, not necessarily by physically being in the studio with the orchestra or Steven Wilson, but by approving what they did. This was posted by the arranger of the orchestra: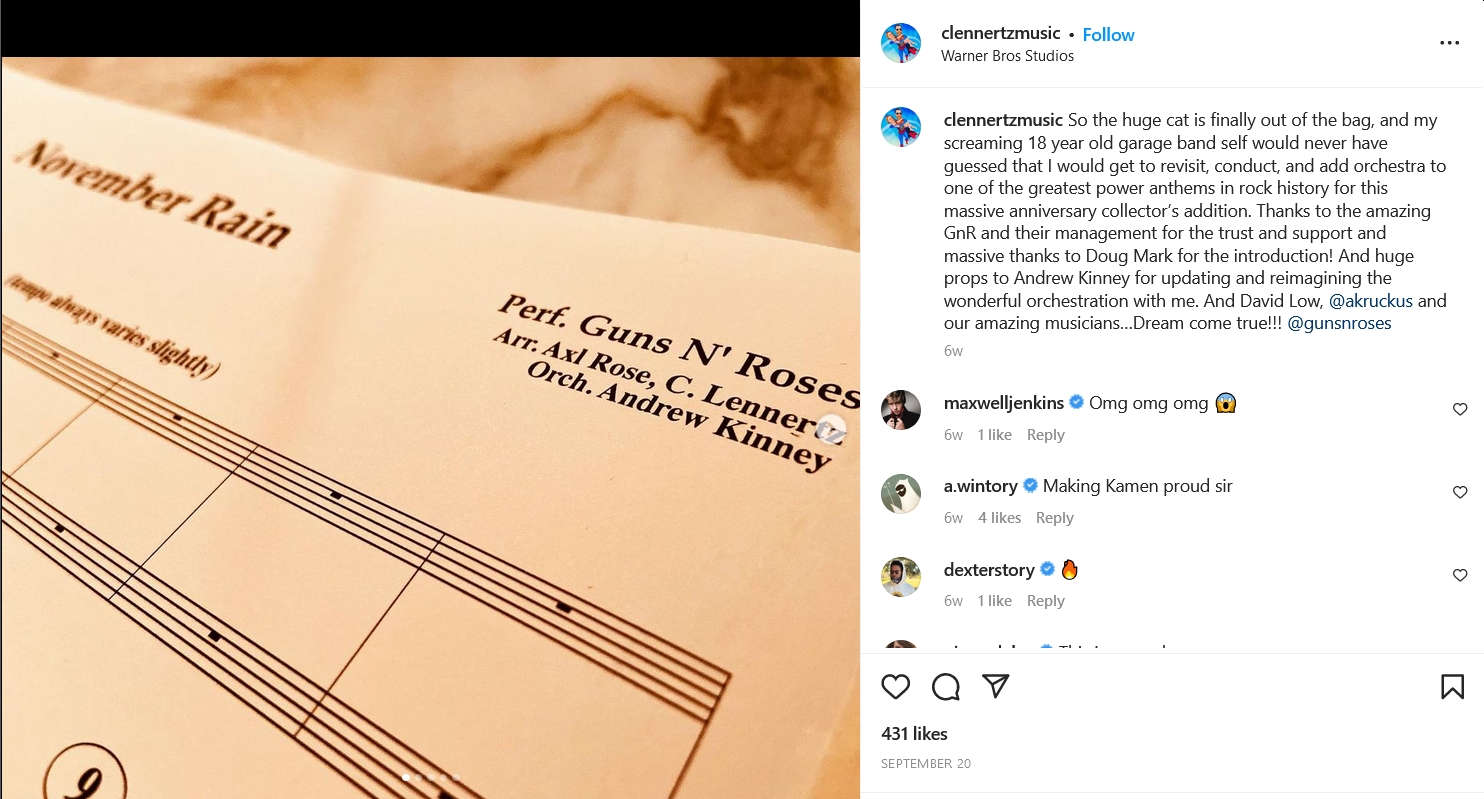 Axl appears as co-arranger on the sheet.
Side note: Doug Mark, who recommended Lennertz, is Axl's lawyer for copyright issues. He handled the case of the Rapidfire demos and the case of the locker leaks.
Axl originally wanted to record November Rain with real instruments, but said he didn't know how to work with an orchestra, so he opted to emulate it with the synths.
Axl: [Being asked if he'd really quit the band if November Rain wasn't done properly]: Well, it wasn't necessarily quit the band. It was just, like, to do that song the way I wanted to do it. I knew that we were going to need a lot of freedom and a lot of time to learn how to do things that we didn't know how to do, or I didn't know how to do. I mean, there's, like, 31 different string sections on there, and I had to do them on keyboards, because I knew I didn't know how to communicate with an orchestra well enough. And just I knew years ago, in starting writing the song, that it was going to take a lot for us to pull it off the way I could hear it in my head, you know. And that's just like, I knew that when I said I'd quit the business, it was because I knew that the only reason that I wouldn't get this right is if I wasn't allowed to. [Rockline, Nov. 27, 1991]
Axl: What was really wild about it was being just overwhelmed by the sounds and working with all these new sounds. I mean, I'm in a rock band where you just work with – most of the time Guns N' Roses just works with guitars, drums, vocals, bass. But working with the strings, and flugelhorns, and certain bells –and "is it the right bell?" It was almost like it was magical. [...]  I realized I only had one week, and just no way I was gonna learn how to communicate with an orchestra. So we brought in, like, eight synthesizers. For eight hours I just sat there and played strings to November Rain over and over and over, and picked every single string sound to create my own 130 piece orchestra. We went through, like, three thousand sounds. We had to sit there and go, "Wait, is that one sound more real than that one?" [...] One of the reasons for having an orchestra in the video [was that] it was one of the only ways to actually get to be around an orchestra and see what that was like; to see what was like to hear an orchestra actually play something I had written on keyboards, and see how well it worked and talk with the orchestra a bit about that. It's not something I wanted to hide from the public and act like I used real strings. I wanted to say, "No, we did this on synthesizers." For me, putting the orchestra in the video, I don't think it was faking anything, because they were really playing when they were there. The sound you're hearing when you see the video is what I play, but when we did the video they were actually playing; and it was a way for me to be around an orchestra and see that, because it's not like I have time or cash to just go and set up an orchestra somewhere. It has to be for something productive and this definitely was. [November Rain: Makin' F@*!ing Videos Part II, June 22, 1993]
So probably to him the song now sounds like it should always have, the way he had envisioned it originally.
But yes, it's a shame that the original becomes kind of "obsolete" with this release. I agree that it should have been remastered and included in the reissue, because Axl's really impressive work of creating that virtual orchestra with all those sounds is part of the story of the song, and the product of his talent and creativity. And he hasn't really gotten enough credit for it (at least outside the hardcore fanbase), because most people never knew about it and thought it was a real orchestra like in the video.
The full Slash interview (mostly about his recent guitar collection book, also about the GN'R tour, playing CD songs and Slither, his Capital One commercial, the impact of Sweet Child O' Mine, future plans for SMKC, etc.)
Matt has confirmed that the track is from the VR era and "has been around for a little while".
"It's a rock and roll song that I wrote with some old bandmates of mine," Matt said (as transcribed by BLABBERMOUTH.NET). "It's been around for a little while. I wrote the lyrics and the melody based on sort of my life story. "
[...]
"This track was my old bandmates Slash and Duff and Dave Kushner from VELVET REVOLVER," Matt added. "And we had this song, and I've always loved this song. And the lyric and the vocal style behind it I kind of based on Lemmy. And the reason I say that is I was driving Lemmy to the Rainbow [in West Hollywood, California] one time, 'cause he never drove; he didn't drive his own car. So I picked him up at his apartment and I had the instrumental track and I played it for Lemmy. So this track has been around for a few years, before Lemmy passed. And I played it for him, and Lemmy goes, 'I wanna sing on that,' which would have been amazing. So when I went to sing the vocal, I'm, like, 'I'm just gonna put the spirit of Lemmy into this and throw down the most gravelly rock and roll vocal I can conjure up."
https://blabbermouth.net/news/matt-soru … gement-day
So it seems that the recording of the instrumental parts dates from the VR sessions and the vocals are recent.
They had written songs for the third album before Weiland was out (Matt said they had put lyrics - then or later - to 4 or 5 of them). Then they recorded demos with Royston Langdon (from the band Spacehog), Franky Perez, and a couple of other guys, and then they wrote and recorded more with Corey Taylor. So there's probably more than an album's worth of material.
According to the Kings Of Chaos website, current members include Gilby and Sebastian Bach, but they're not on this song. I guess they intend to write new songs for the album. Matt signed with a new label recently, so maybe this song from the VR era serves as promotion for them. I think Matt's vocals are horrible, though.