Re: Pink Floyd reunites for one song to support Ukraine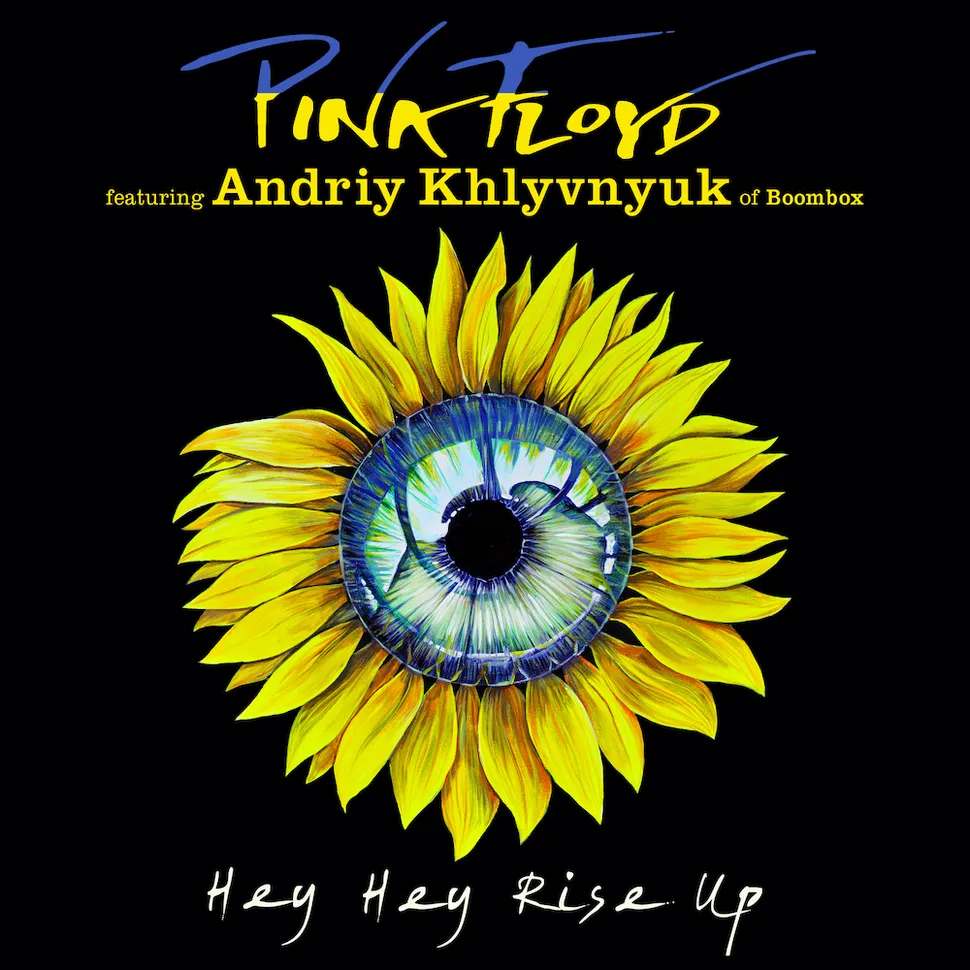 David Gilmour, Nick Mason, and longtime Floyd bassist Guy Pratt are joined by Andriy Khlyvnyuk of the Ukrainian band BoomBox on the song
Pink Floyd – David Gilmour, Nick Mason and longtime bass guitar player Guy Pratt – have reunited to record a new song in support of the people of Ukraine.
Featuring Nitin Sawhney on keyboards and vocals from Andriy Khlyvnyuk, of the Ukrainian band BoomBox, the song is titled Hey Hey Rise Up.
In February, Khlyvnyuk posted a video of himself singing the World War I-era Ukranian protest song, The Red Viburnum In The Meadow, in Kyiv's then-empty Sofiyskaya Square on his Instagram (opens in new tab) page. The recording went viral, and forms the basis of Hey Hey Rise Up.
The powerful song features a stunning, and classically Gilmour, display of lead guitar prowess, packed with the wailing and emotive bends, perfect attack, and glass-like tone that have long been his trademarks.
"We, like so many, have been feeling the fury and the frustration of this vile act of an independent, peaceful democratic country being invaded and having its people murdered by one of the world's major powers," Gilmour – whose has a Ukrainian daughter-in-law and grandchildren – said in a statement.
Of how he came to know Khlyvnyuk, Gilmour said, "In 2015, I played a show at Koko in London in support of the Belarus Free Theatre, whose members have been imprisoned.
"Pussy Riot and the Ukrainian band, BoomBox, were also on the bill. They were supposed to do their own set, but their singer Andriy had visa problems, so the rest of the band backed me for my set – we played Wish You Were Here for Andriy that night.
"Recently I read that Andriy had left his American tour with BoomBox, had gone back to Ukraine, and joined up with the Territorial Defense. Then I saw this incredible video on Instagram, where he stands in a square in Kyiv with this beautiful gold-domed church and sings in the silence of a city with no traffic or background noise because of the war.
"It was a powerful moment that made me want to put it to music."
Re: Pink Floyd reunites for one song to support Ukraine
Pink Floyd without Roger Waters isn't really Pink Floyd.
Since this is a one off for charity, no reason to not allow Waters to record some bass and/or backing vocals to the track.
It would've drew even more attention to the cause.
This is just solo Gilmour with the Floyd name added for branding purposes.
Re: Pink Floyd reunites for one song to support Ukraine
In a sense Gilmour did the same thing Axl did, continue on with the band when he had no business doing so. At least Axl put together some very talented people for his new iteration, Gilmour didn't even do that. Sure he had Mason and Wright but Nick never wrote anything and Rick was spent in that area. And so was David. It was solely a cash grab.
I wonder how Roger feels about him doing this because of the war. David always said he didn't want to do politics and get involved with those issues, but here is releasing a new song for the first time in like 30 years because of politics, and clearly taking a side too.
Re: Pink Floyd reunites for one song to support Ukraine
Definitely similarities between the two.
One difference is how Gilmour didn't really have a hardcore base to rally around him after the split....Axl did.
Most of them were on Waters side.
He did have what Axl didn't... enough casual fans to fill stadiums. It's what made continuing Pink Floyd post-Waters so easy.
Gilmour was lazy creatively...and he hated writing lyrics.
Imagine if he had the same mountain to climb as Axl. I don't think he could do it.
I'd love to see the alternate timeline where Waters gets the rights to the name or he simply never leaves.
They were too good to end things at The Final Cut.
The Final Cut was a mistake. They should've went with The Pros and Cons of Hitchhiking. Waters made them choose between working on The Wall or Pros and Cons. They chose The Wall.  That should've been next on tap.
I've heard this song a couple times. Not all that great. The solo is ok.