Re: New Design......
It may have been a cache/history problem with your Firefox browser

I'm using Firefox 3 here and it seems to work okay. No code has been changed since last night and it seems to have corrected itself for sic. and Roxxie.
We're gonna test it in Opera and AOL browser tonight. If anyone else is having display problems post up here and we'll look into them all.
Anyone know how to get a copy of Firefox 2? I'm running v3 but probably quite a few folk using the old version still

Rep: 20
Re: New Design......
Looking pretty fucking good people, nice work!
Re: New Design......
If your using Firefox please can you go to "Tools - Clear Private Data" and tick the boxes as shown below: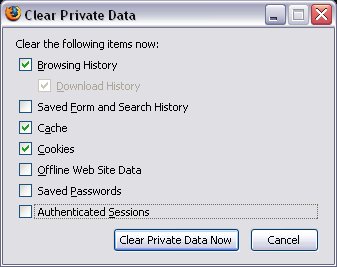 Let me know if that works. If you could also give it a test in Internet Explorer just to see if it works that would be great

On a more positive note, videos for all of UYI 1 have now been added. UYI 2 and Spaghetti will be added later (or tomorrow). To view a video use the drop down in right hand side menu called "GNR Songs" - AFD, Lies also available.
Glad to see all the feedback is positive so far